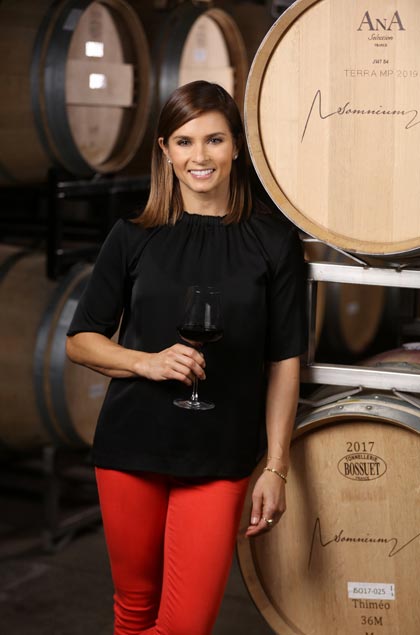 Go Back
Danica Patrick is best known for her prowess behind the wheel of a racecar. She's garnered international attention for breaking barriers and succeeding in the male-dominated world of professional motorsports.
Danica started racing go-karts at the age of 10 and worked her way up through the ranks. She burst onto the scene in May 2005 when she stunned the world by leading 19 laps and finishing fourth in her first Indianapolis 500, becoming the first woman to lead laps and score a top-five finish in the historic race. Three years later, in April 2008, Danica became the first woman to win a major-league open-wheel race in a North American series with her victory in the IndyCar Series Indy Japan 300.
Her path to appreciating fine wines, which ultimately led to creating Somnium, took root early on during her days in England where she developed a palate for dry white wines like Sancerre and Chablis.It was also here where Danica learned to cook, first out of necessity as she gravitated towards a healthy lifestyle, and later out of interest and growth as she discovered the diversity of global flavors during her worldwide travels to places like New Zealand, Australia and South Africa. Back on domestic soil, Danica's taste and interest in wine continued to grow as she developed an affinity for red wine. In 2006, while in town for an event at Sonoma Raceway, she experienced the first of many magical moments in Napa Valley as she sipped wine on a Howell Mountain hilltop.
Back on the track, Danica transitioned to stock cars and started competing full time in NASCAR's top series in 2013. She made her presence known in the year's first race by scoring the pole award for the Daytona 500. She went on to lead five laps in the race and finished eighth, the highest finishing position ever for a woman in the "Great American Race." Danica has continued to break records in the sport ever since.
Adventurous not only on the track but at the helm of her winery, Danica enjoys tapping into her artistic side, which weaves its way into every aspect of the winery and each improvisational dish she creates in the kitchen. While a competitive edge is essential on the race track, Danica enjoys the "all for one and one for all" philosophy that is innate to the Napa Valley.
"You set up a tasting at one winery and then they send you to a buddy of theirs down the street," Danica said. "It's just such a friendly environment."
Just as she does on the racetrack, Danica defies the norms when it comes to preconceived notions about wine and food pairings. She instead prefers to follow the advice a wise man once told her: "Eat the food you want and drink the wine you like." And that's exactly what Danica does at Somnium.