6-Bottle Holiday Gift Set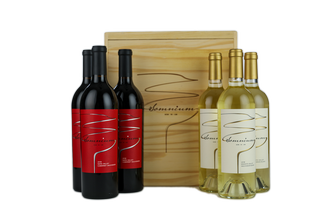 2018 Napa Valley Cabernet Sauvignon:
Tasting Notes: Aromatic and fresh with intense blackberry, black currant and blueberry flavors. Cherry fills the mouth, with hints of rosemary, sage, and earthy notes on the end palate, followed by a smooth soft finish.
Vineyard: The Somnium Estate Vineyard sits on the flanks of Howell Mountain at 1300 ft and faces directly west and southwest, benefiting from maximum sun exposure. The high elevation keeps the estate vineyard, on average, 5 degrees cooler than the valley floor, resulting in a steady growing season. Blocks 3, 4, 6 and 7 were blended together with grapes from one of the oldest Merlot vineyards in Coombsville (Napa Valley), situated on a rocky hillside with well-drained soil.
Composition: 75% Cabernet Sauvignon, 15% Merlot, 8% Cabernet Franc, 2% Petit Verdot
2018 Knights Valley Sauvignon Blanc:
Tasting Notes: Fresh flavors of honeydew melon, green apple and pear with mineral notes that lend heft and density on the mid-palate. Bright acidity with tropical fruit flavors of guava, mango and lychee offer a smooth, long finish. Drink at cellar temp 55 degrees.
Vineyard: Our Sauvignon Blanc is crafted from within the Knights Valley AVA, just a stone's throw from the Napa Valley border. The Sauvignon Blanc vineyard is a shining star of unheralded Knights Valley, situated in the saddle of the Vacas Mountain range between northern Napa Valley and Alexander Valley. It is protected from Pacific Ocean influences more than other Sonoma County growing regions, its warmer climate, slightly higher elevation, and volcanic soils all combine to create ideal growing conditions. This vineyard is a hidden gem where the unique microclimate, is noted for its volcanic soil with large cobbles, yields a gracefully nuanced wine which benefits from sun drenched growing days and cool evenings.
*Wooden Box Included