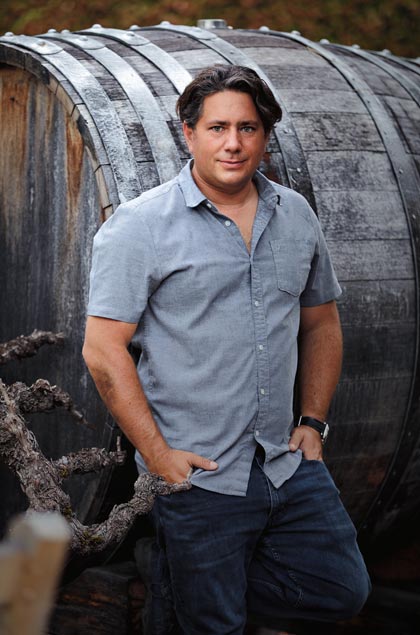 Go Back
Growing up in the South of France afforded Julien the opportunity to develop a love for both the land and the sea. He was immersed in the vineyard at a young age, and also fell in love with surfing.
Although he spent his childhood running through the vineyards of Provence with his cousins, shooting grapes at each other with a slingshot, his time cleaning the cellar as a young boy convinced him to follow a different course in school. Yet as he studied agri-business in the Loire Valley, he always returned to winemaking each year to assist with harvest. It was this continuous connection to the craft that eventually persuaded him to pursue a career as a winemaker.
Dedicated to achieving excellence in his craft, Julien garnered winemaking positions at some of Bordeaux's most noble wineries, including Lafite Rothschild and Smith Haut Lafitte. In 2003, Julien had the opportunity to intern in the US and he embraced it to the fullest. He then returned to his family's fast-growing winery in Provence, where his experiences helped them re-work operations, logistics, and engineering. In 2006, Julien moved to Napa and worked with Philippe Melka as his director of winemaking for eight years before launching his own projects, which include Fayard Winemaking and Covert Estate in Coombsville.
Now with more than two decades of winemaking expertise, Julien Fayard is one of Napa Valley's most respected winemakers, producing California varietals with French finesse. He believes in producing wines with an identity, exploiting what makes each one unique. Julien's wines are a pure expression of their terroir, highlighting the specificities and characteristics of the fruit, vineyard management, soil and climate. He has a track record of building brands both in terms of quality and market presence.
Julien earned his Master in Agri-Business from ESA France and his Master in Winemaking from Toulouse France. In 2011, he received his MBA from UC Davis. Today, Julien lives in Napa with his three children Emeline, Kian and Maelle. He continues to surf weekly.