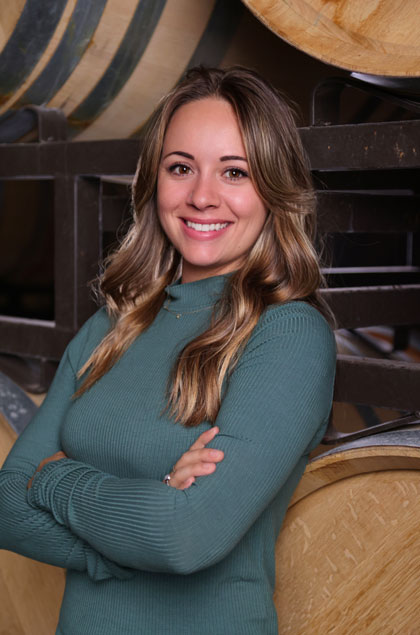 Go Back
Natalie's journey in wine feels more than a little like destiny. A California native, she grew up between the town of Sonoma—where her grandparents still reside in her great-great-grandparents' home—and a one-stoplight community in Lake County named Middletown. Her father ran a small wine tour company, and brought Natalie along to tastings throughout Napa and Sonoma from a very young age. She was captivated by the dramatic landscapes and beautiful settings, but despite her father's encouragement to seek a career in wine, she resisted—at least at first.
After graduating high school, Natalie left California to pursue a collegiate soccer career at Barry University in Miami, FL. She earned her Bachelor's degree in Sociology and Biology and captained the women's soccer team, leading them to two conference championships and three NCAA tournament bids during her tenure. After graduation, Natalie began a career in the nonprofit world. She served her local community for a year as an Americorps Member, then landed a job with Miami Children's Initiative as the company's first ever Health & Wellness Director. This work taught her essential lessons about communicating across diversity, connecting people, and uniting them based on their similarities. This formative community work provided the foundation for her hospitality approach today.
A country girl at heart, Natalie was ready to come home after a few years in the big city—but not, of course, without shaking the travel bug first. She took a bartending job in Calistoga and traveled the globe as much as possible, visiting some of the world's most touted wine and food regions—from Peru to Argentina to South Africa—without consciously recognizing the theme. She finally came to the realization that her father was right, and fully embraced her destiny in food and wine.
Natalie immediately resonated with Somnium's "Be Present" and "Dream Big" mantras—and of course the fabulous wine. She is thrilled to join the team as Somnium's Brand Ambassador, sharing her passion for fine food and wine with visitors to her beloved wine country.
When she is not holding a wine bottle, Natalie can be found exploring the California wilderness, adventuring with her pug Rajah, and probably trying to make someone laugh.
Natalie Diaz, natalie@somniumwine.com