Gabriel-Glas 2 Glass Gift Set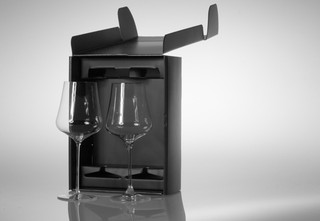 Why are Gabriel-Glas wineglasses different than standard wineglasses?
Dishwasher Safe Crystal: The Gabriel-Glas is strong by design. Each glass is molded, the StandArt glass as one piece, seamless with no stress points (e.g. at the base of the bowl, or base of the stem like many other glasses). Gabriel-Glas, of Austria, is lead-free crystal and perfectly safe in your dishwasher! So invite your friends over and don't worry about hand washing all those glasses! Save time, space and money!
One Glass for All: The glass is ideal for every style of wine. Form follows function: The broader base of the bowl of the glass — a precise 95 millimeters — and the conical shape at the top of the glass— allows for the "nose" of a wine, its top, middle and a base notes to emerge in the glass. The glass acts as a gentle decanter. The shape is designed for the maximum enjoyment of every varietal and style of wine served in the glass.
Designed to Decant: The bowl of the glass is a slightly outwardly curved in a v-shape so that the wine is broadly dispersed in the glass allowing for more surface to air contact — an instant decanting effect. This subtle way to decant is ideal, not only for rare wines and in assisting restaurateurs who often serve young wines, but allows you to decant your wine in the glass, leading to a superior drinking experience.
*Please note these do NOT have the Somnium Logo
Shipping included